UNI-FLEX™ Gravity Skatewheel Expandable Conveyor
A rugged conveyor ideally suited for many roles from packaging and flexible assembly lines to loading and unloading of trucks and containers. The conveyor is easy to move around on heavy duty castors and simply compacts to a quarter of its size when not in use.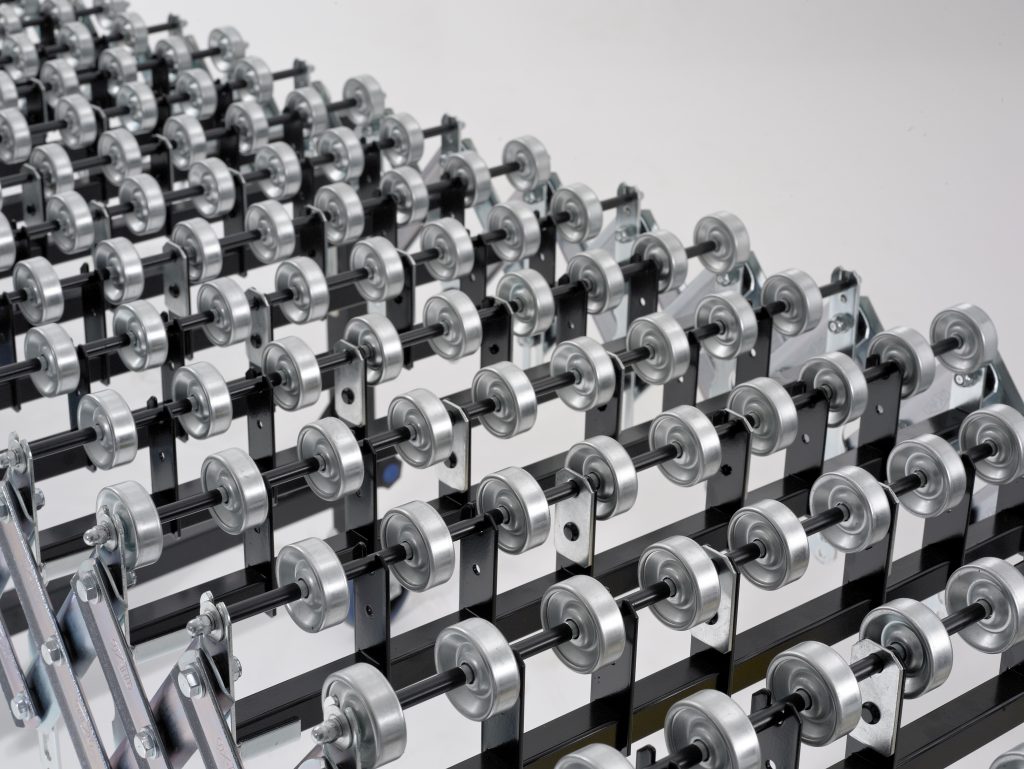 Support legs are fully adjustable from 740mm to 1065mm as standard.
300 Kg's load capacity per linear metre based on a level working height.
600mm and 750mm standard conveyor widths. (900mm width optional).
All support legs have welded braces for additional strength and rigidity.
Heavy Duty Castors – 125mm x 36mm swivel castors for maximum manoeuvrability. The castor wheel incorporates a foot operated brake.
Skatewheel Axle Support:
Jig welded and spanning the conveyor width, our one-piece "Constantly Vertical" all steel skatewheel and axle support ensures maximum strength throughout.
Conveyor Options
Package Stop:
Drop Down Package Stop – prevents cartons and packages from falling off the conveyor at the discharge end. Simply drops down for storage when not required or when connecting to another UNI-FLEX™ conveyor.
Skatewheels:
Our UNI-FLEX™ standard is 49mm dia heavy duty zinc plated steel suitable for all flat based loads. We can also offer a 48mm dia plastic skatewheel for lighter duty applications if required. Please note that the conveyor load capacity is reduced to 80 kg's per linear metre with plastic skate wheels.
Skatewheel Centres:
125mm as standard when the conveyor is fully extended. Optional 75mm and 100mm wheel centres can be supplied for the conveying of smaller packages or cartons. Please note that optional wheel centres will affect the conveyor compacted length.
Conveyor Connecting Bracket:
Quickly and easily connects two or more conveyors together to expand your system.
160mm x 50mm Swivel Castor:
A larger diameter castor for easier rolling over rough or uneven surfaces. Please note this adds 35mm to the conveyor height.